'Savvy Hack' at Bread & Butter, 2022. Filet, London, UK.
---
Bread & Butter was an exhibition independently facilitated by artists Gabrielle Connole, Hazel O'Sullivan, Phillip Rhys Olney, Will Griffin, Freddie Churchill and curator Natalie Shanoff, that took place in London city centre, Their creative collaboration developed at the Chelsea College of Arts during the Masters in Fine Art programme.



'A SAVVY HACK FOR YOUR CRAPPY HOME.

Utility rooms NEED flooring that can withstand heavy footfall (and all-weather footprints!). Invite a parade of pattern that's a breeze to clean, or perk up daily chores with mix and match floor tiles in tonal shades. Introduce low-maintenance texture that hides the dirt with natural options - REAL HOMES!>'
'Hassocks' at Back To Life, 2022. St. Saviours Church Pimlico, London, UK.
---
Back to Life is a Lenten exhibition of work by students on the
MA Fine Art course at UAL Chelsea College of Arts, organised by
Arts Chaplaincy Projects in collaboration with St Saviour's Pimlico.

This work was produced with an awareness of and respect for contemplative spaces, in particular the Anglo-Catholic setting of St Saviour's church, whilst also attesting to the cultural diversity of the communities of Chelsea college and Pimlico parish.

These four 'Hassocks' are wooden representations of the hand-
stitched padded cushions provided at the back of each pew at St. Saviours Church, installed in their replacement.
Taking inspiration from the existing architecture at St. Saviours, and decorative domestic techniques, I hoped to reflect a sense of community that is at the heart of the church.
'Cargo' at SURVEYOR 2021. The Solstice Arts Centre, Co. Meath, Ireland.
---
Solstice Arts Centre invited artists living in or from County Meath to submit works of all disciplines for inclusion in our tenth SURVEYOR open exhibition.

SURVEYOR serves to support, value and encourage Meath artists in
the development of their practices and creative careers. The exhibition presents an overview of contemporary visual arts practice throughout the county.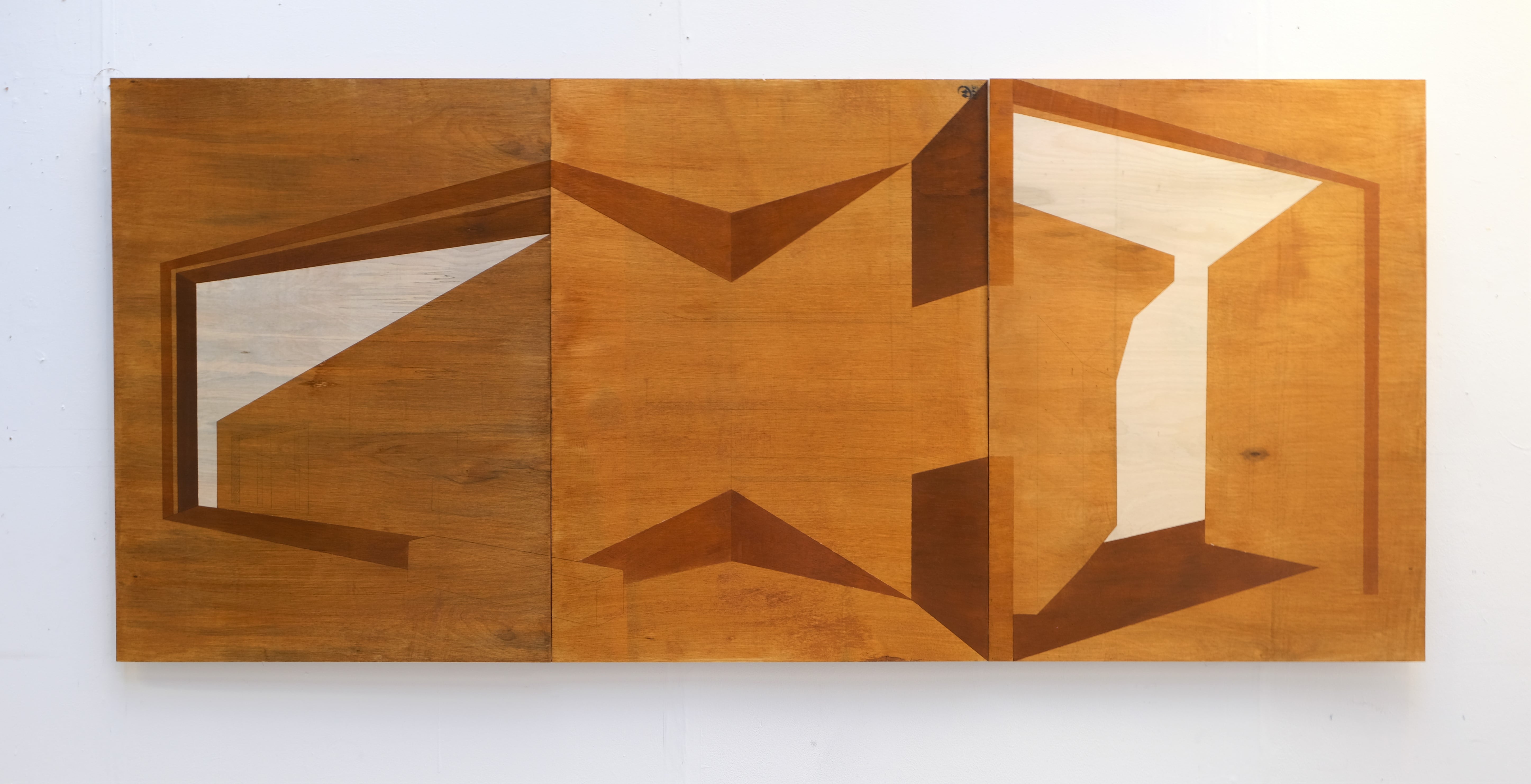 'Iveagh Rot' + 'Corrode' with Lucky No. 7 Collaboration. Mend.hx, Co. Dublin, Ireland.
---
Lucky No. 7 Collaboration presents the perspectives of artists
making work through a period of extreme uncertainty and radical change that characterises life in 2021.

Through their own individual and distinctive experiences these seven artists connect themselves into a wider communal context. This exhibition links the seven artists together through their process of working, and demonstrates the connections between relationships
with people, objects, history and the physical surroundings we find ourselves in.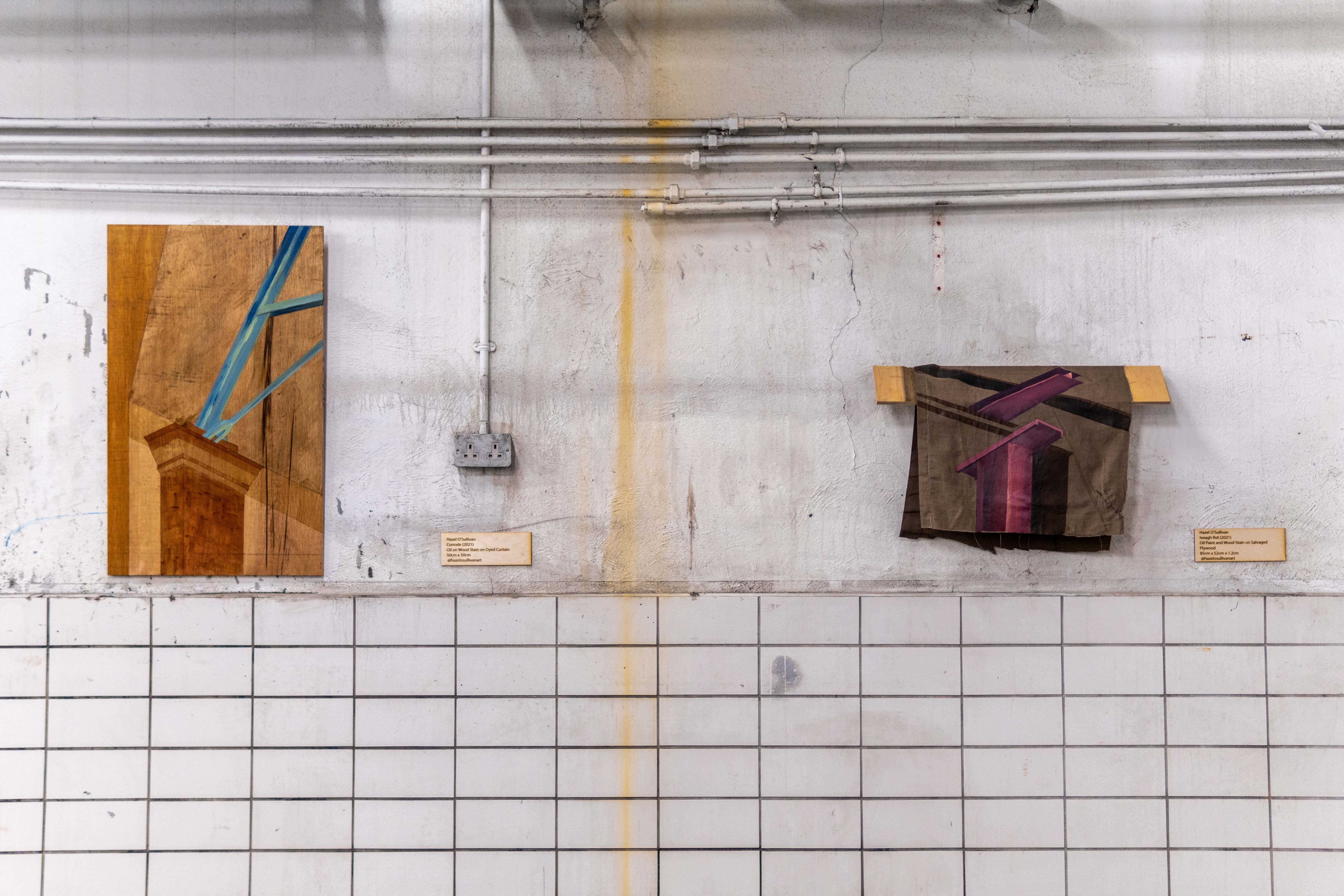 'Iveagh Rot' at It's At Home by Dublin Modular. The Complex Gallery, Co. Dublin, Ireland.
---
The It's At Home project series was made up of 4 events in 2021;
Let's Listen (Saturday 30th of October at Pallas Studios), Talk (Friday 5th of November at unit 44-Stoneybatter) , Touch (1.30-4,30pm) and See (6.30-10pm) Saturday 6th of November at The Complex Gallery.

Dublin Modular is an artist-run non-profit organisation primarily hosting all types of live electronic music and visual arts meetups, workshops and performances throughout Dublin City.

'Emerald City' at RISING 2021. Hang Tough Contemporary, Co. Dublin, Ireland.
---
Hang Tough Contemporary presents RISING 2021, a dynamic group show of original works from skilled painters at the beginning of their careers.

We have invited some of the most exciting and innovative national talent to submit one painting for RISING 2021, offering a small snapshot and insight into their style, work and practice. We will also profile each of the artists through a series of interviews, delving into their creative practice and continued artistic development.




'Cathedral' at Culture Night by First Day Gallery, 2021. The Guinness Storehouse, Co. Dublin, Ireland.
---
This multi-disciplinary exhibition featured recent works by some of Ireland's leading visual artists. Painting, sculpture, print,
photography and conceptual installations curated by Robyn Carey
and Neil Dunne adorned the stunning Arrol Suite on the 3rd floor of
the historic Guinness Storehouse building.

This dynamic exhibition highlights Guinness' longstanding support
and cultivation of Irish Art. With iconic art exhibtions such as
ROSC '84 taking place in the same space, First Day Gallery are
thrilled to follow in the footsteps of those before them with their second show of 2021.
'Inner-City' Solo Exhibition at The Wilton Gallery, 2021. Glasthule Road, Co. Dublin, Ireland.
---
This exhibtion is the first solo show by Hazel O'Sullivan at
The Wilton Gallery. The new body of work explores perception and perspective and centres on her interest in perspective.
A recent graduate from NCAD with a BA in Fine Art Painting and
Critical Cultures, Hazel is unafraid to experiment with different mediums; oil paint and wood stain on plywood, the quality of the
wood grain forming a critical aspect of the compositions of her work. Occasionally she will use acrylic onto cardboard boxes, enhancing
the illusions of perspective and depth central to her work. Ideas of utopian architecture interest O'Sullivan; Frank Lloyd Wright's 'Broadacre City' and Ursula Le Guin's 'The Dispossessed'.
O'Sullivan's practice engages with the complex questions of modernism and the domestic space. She removes the differences between exterior and interior space and forms immersive senses of space and architecture.
'Geometry, a Line, an Idea of Boundary' at BA Grad Show 'NCAD Works', 2021.
National College of Art and Design, Dublin, Ireland.
---
Linear perspective informs the construction and illusion of space variously present in Renaissance compositions, Minimalism, Suprematism, modern domestic architecture, and interior design.
By investigating illusionistic and manipulated space within these contexts – with specific reference to McGarry Ní Eanaigh's 'The Pastoral Centre' in Dunshaughlin, and Pierre Koenig's 'Case Study House #22' in Los Angeles – my work has been inflected with a
sharp sense of depth and distance.
'Onlooker' at RUNDGANG, 2020.
The University of Fine Arts Münster (Kunstakademie Münster), Germany.
---
Thousands of visitors flock to the buildings on the Leonardo Campus every year to see the big annual exhibition. The artistic classes show individual positions or conceptual joint works in their studios.
This perspective floor painting gives meaning to fundamental geometric shape, and space. Inspired by the surrounding studio architecture, 'Onlooker' expands the physical space through painted composition with a confident minimalist approach.